[UnauthorizedAccessException: Access is denied. (Exception from HRESULT:
 0x80070005 (E_ACCESSDENIED))]

 [FileLoadException: Could not load file or assembly
 'System.Web.RegularExpressions, Version=2.0.0.0, Culture=neutral,
 PublicKeyToken°3f5f7f11d50a3a' or one of its dependencies. Access is
 denied.]
 System.Web.Configuration.RegexWorker..cctor() +0
Go to the Reporting Services Configuration Manager and restore the encryption key with your backup.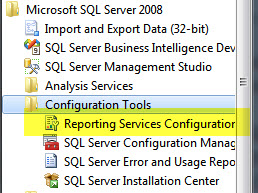 Apply the changes and it should fix the issue. If you didn't back up the encryption key when you installed the reporting server… well, I guess you are out of luck. You will have to delete the key and start over by deleting the the corrupted key (Click the Delete button) and redefine the connection and subscriptions on the report server.
Now when you go to your reports via the url in the browser, it should work.
http://localhost/Reports/Pages/Folder.aspx
Please follow and like us: